Sorry, we couldn't find any posts. Please try a different search.
Protecting our Nation's Critical Infrastructure with Secure Communications
Date: October 26th, 1:00pm ET
Location: Virtual
As our nation looks to re-invest in our country's infrastructure, we have a compelling opportunity not just to improve upon it but also ensure it is secure and resilient. Private networks coupled with a robust and evolving set of security practices, standards and solutions can play a key role in safeguarding our critical infrastructure.
UBBA Annual Summit & Plugfest 2021
Date: October 19 – 21
Location: St. Louis, Missouri
Anterix is proud to be a Welcome Reception and PLUGFEST Sponsor at the UBBA Annual Summit this Fall.
UBBA will bring the first ever Private LTE Plugfest to St. Louis in October to showcase the interoperability of IoT devices and utility use cases on private LTE networks. This will be an exciting event aimed at examining the interoperability, security and scale of private LTE for utilities. If you're looking to build the utility of the future and want to see what one looks like, this is the place for you. The event will explore the key challenges facing electric utilities and set the stage for real collaboration as we analyze private broadband as a critical information infrastructure for utilities.
UTC Northeast Regional Meeting – Private LTE Workshop
Date: September 15 – 17
Location: Providence, Rhode Island
Rewatch this session from the UTC Northeast Private LTE Workshop for an overview of the New York Power Authority (NYPA) Private LTE field trial. NYPA's digital strategy, pilot project objectives, system configuration, test criteria and results will be discussed for 3 use cases: drones, digital utility worker and VoLTE will be highlighted along with lessons learned for 600 MHz and 900 MHz spectrums.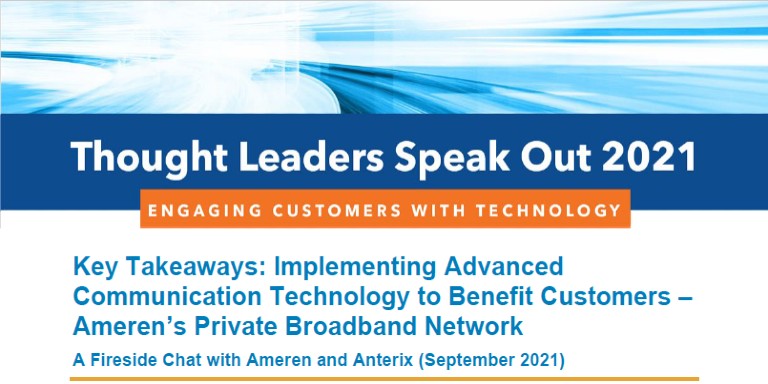 Location: Virtual
Date: Sept 23, 1:00 P.M.
Fireside Chat with Ameren and Anterix Implementing Advanced Communication Technology to Benefit Customers – Ameren's Private LTE Network
Moderator:
-Mary Kipp, CEO, Puget Sound Energy
Discussants:
-Bhavani Amirthalingam, SVP, Chief -Digital Information Officer, Ameren Corporation
-Robert Schwartz, President & CEO, Anterix
Anterix is happy to share our perspective in industry panels, tradeshows, webinars, and other events.