Industry Insights is an Anterix-supported webinar series with Utility, Communications and Energy industry experts discussing the future of the utility industry and how new technologies will affect it.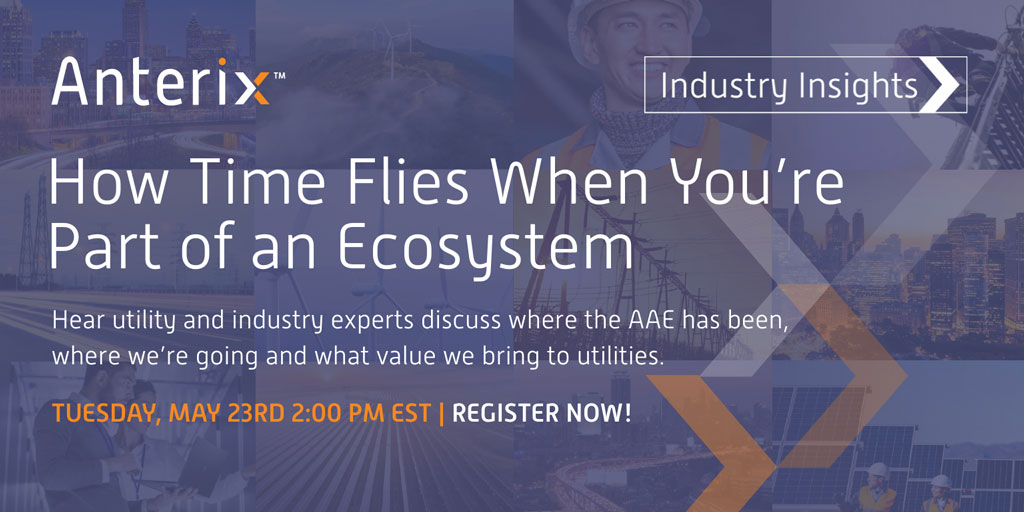 Upcoming Episode
How Time Flies When You're Part of an Ecosystem
Tuesday, May 23rd 2:00 PM EST
Has it really been two years? We launched the Anterix Active Ecosystem program in May 2021 with 35 original members. Today there are over 100 innovative, industry-leading companies in the program, collaborating to develop and bring to market products and services to help utilities deploy and get the most out of their 900 MHz private LTE networks--all with guidance from utility executives and other industry leaders on the Anterix Utility Strategic Advisory Board (USAB).
Join Xcel Energy Director of OT Network Operations, Wendell Reimer, and Anterix Chief Operating Officer, Ryan Gerbrandt, for a look back at Active Ecosystem milestones and a discussion of what's on the horizons for the Ecosystem and for utility private LTE adoption.
Moderator:
Pete Tseronis (Dots and Bridges)
Panelists:
Ryan Gerbrandt (Anterix)
Wendall Reimer (Xcel Energy)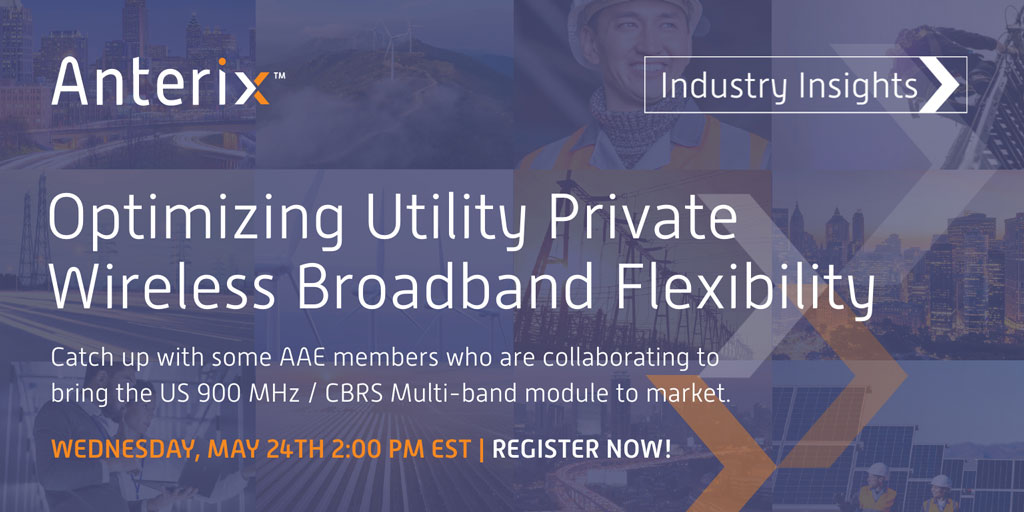 Upcoming Episode
Optimizing Utility Private Wireless Broadband Flexibility
Wednesday, May 24th 2:00 PM EST
Utilities looking to modernize communications networks with private LTE can benefit from both 900 MHz and CBRS for the capacity and coverage they need. Anterix Active Ecosystem members 4RF, GE and RAD are collaborating with Anterix and Sequans to bring to market an LTE Cat-4 multi-band communications module that supports 900 MHz, CBRS, and failovers to other networks.
They'll discuss how they've leveraged best-in-class technology and low-cost silicon economics to rapidly bring a flexible, high-performance solution that utilities require at an attractive price point. In this case, bringing a low-cost, versatile multi-band module to market. The panelists will also address how they anticipate these solutions will help accelerate the device ecosystem, creating additional value for utilities.
Moderator:
Pete Tseronis (Dots and Bridges)
Panelists:
John Yaldwyn (4RF)
Chris Trabold (GE)
JL Betts (RAD)
Jeremy Gosteau (Sequans)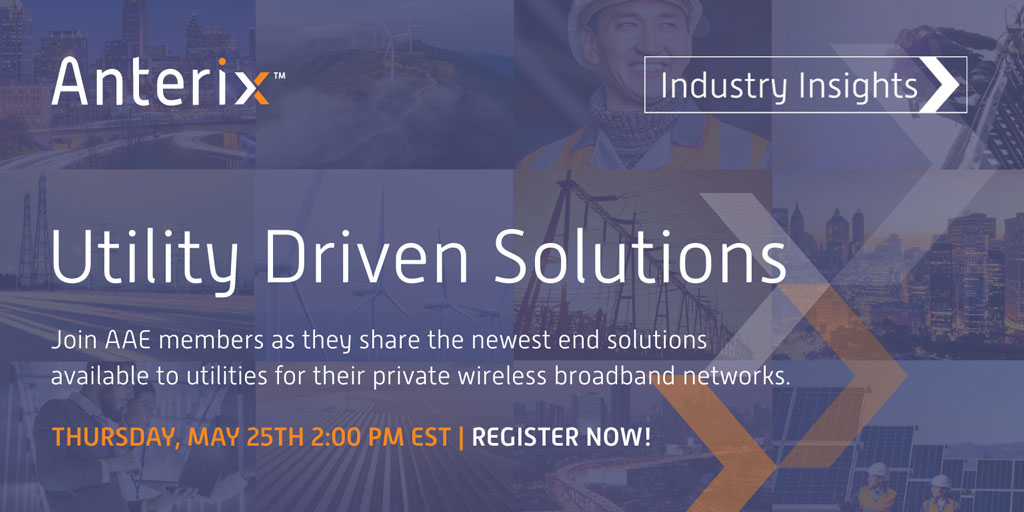 Upcoming Episode
Utility Driven Solutions
Thursday, May 25th 2:00 PM EST
Join industry experts as they discuss insights on solutions driven by utility needs including smart infrastructure applications, automation, monitoring, and asset management solutions.
Ecosystem members will discuss how their solutions are helping utilities realize improved ROI, reduced power costs, and are driving overall operational efficiency.
Moderator:
Pete Tseronis (Dots and Bridges)
Panelists:
Ron Krzoska (Hitachi Energy)
Kevin Corcoran (Hubbell)
Jow Ortiz (Ubiquia)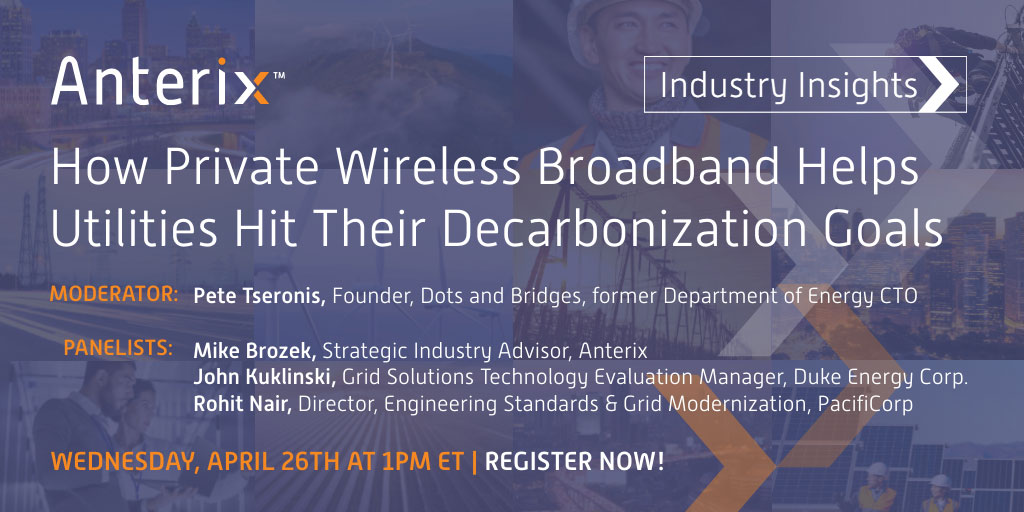 Most Recent Episode
Private LTE Can Help Utilities Hit Decarbonization Goals
Wednesday, April 26th at 1:00 PM - 2:00 PM EDT
April is Earth Month, so what better time for Industry Insights to focus on the importance of modern communications in helping utilities reach their clean energy goals? Importantly, there's a direct link between utilities' ability to meet emissions reduction targets and their adoption of private LTE networks for grid management. (Hint: the grid was designed for one-way energy flow from central generation resources, but now it needs to be smarter to accommodate renewable energy resources that are frequently distributed and intermittent and can even morph into consumers of power).
Join industry leaders Mike Brozek, Strategic Industry Advisor, Anterix, John Kuklinski, Grid Solutions Technology Evaluation Manager, Duke Energy Corp., and Rohit Nair, Director, Engineering Standards & Grid Modernization, PacifiCorp as they connect the dots and discuss how the industry is using communications technology to enable a cleaner energy future.
Hosted by:
Pete Tseronis, Founder, Dots and Bridges, former Department of Energy CTO
Featuring a distinguished panel of industry experts:
Mike Brozek, Strategic Industry Advisor, Anterix
John Kuklinski, Grid Solutions Technology Evaluation Manager, Duke Energy Corp.
Rohit Nair, Director, Engineering Standards & Grid Modernization, PacifiCorp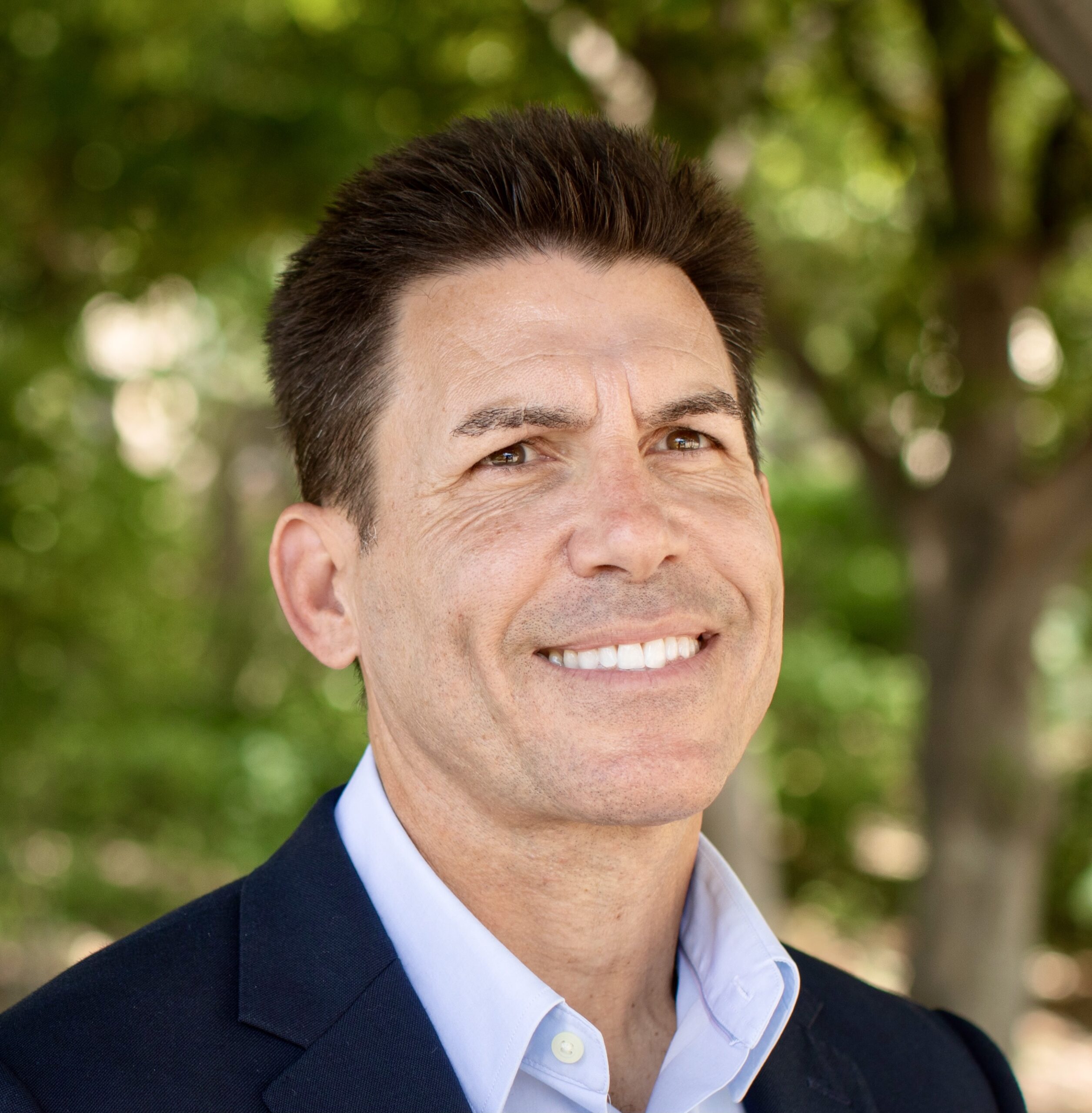 About Our Host
A former DoE CTO and the founder of Dots and Bridges, Pete Tseronis maintains a passion for collaborating with government, industry, investor, and academic ecosystems to unearth and stimulate transformative innovation while increasing private-sector commercialization. As the host of Industry Insights, Pete digs into our guests' expertise and experience getting to know what people are really thinking about the next generation of grid modernization.
Industry Insights Library
View past episodes to hear leaders discuss the future of the grid, industry trends and challenges and what is needed to move reliability and grid modernization to the next generation.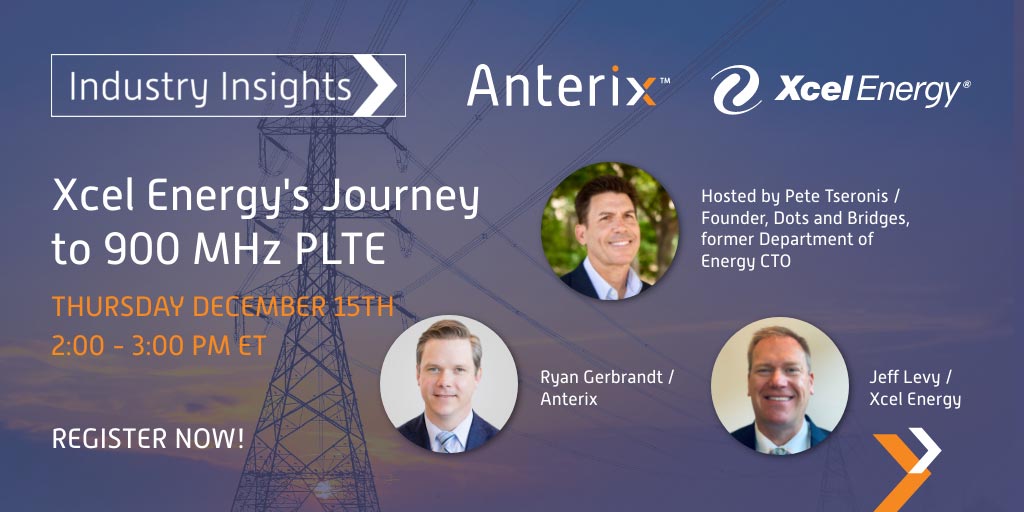 Industry Insights Roundtable (Episode 17)
December 22, 2022
What is the value proposition for deploying a utility-controlled private LTE network? What are the key use cases it can support? How does a multi-operating company utility move forward with a transformational project like private LTE? Why is beneficial to the communities that utilities serve?
Rewatch the session with Jeff Levy, Xcel Energy's VP of Infrastructure and Shared Services and Ryan Gerbrandt, Anterix's COO as they discuss Xcel Energy's 900 MHz private LTE journey, the rationale for its decision to adopt that solution, the enhanced value opportunities that it may unlock, and how its comprehensive evaluation process can help other utilities efficiently reach their own decisions.