What Is The Bipartisan Infrastructure Law (BIL)?
Utilities are facing an ever-increasing range of challenges, including wildfires, cyber security threats, and meeting decarbonization goals. New federal funding opportunities can be an essential tool for these energy companies to support the evolution and modernization of our Nation's electric grid. The Bipartisan Infrastructure Law (BIL) represents a substantial investment in the future and provides a pathway to a cleaner, more reliable, resilient, and more secure energy future.
The BIL allows eligible entities including electric grid operators, distribution providers, and transmission owners or operators, the opportunity to either be a direct grant applicant, or apply for sub-awarded funds. The law specifically targets investments in resiliency, flexibility, and security of the electric grid including the development of private wireless broadband and middle mile infrastructure. By investing in private LTE communications networks, energy companies will be able to better serve their customers by transforming the grid with technologies that improve system security, resiliency, and reliability. Some examples of these transformational investments include:
Anterix is working with leading utilities across the country to help strengthen the nation's grid by providing the foundation for secure, private wireless broadband networks. These networks are critical to support the new applications that energy providers must implement to enable the integrated energy reality necessitated by the clean energy transition. Anterix provides the tools, expertise and solutions needed to build the grid of the future.
Get in Touch with Anterix
Learn more about the BIL from our Industry Insights episode!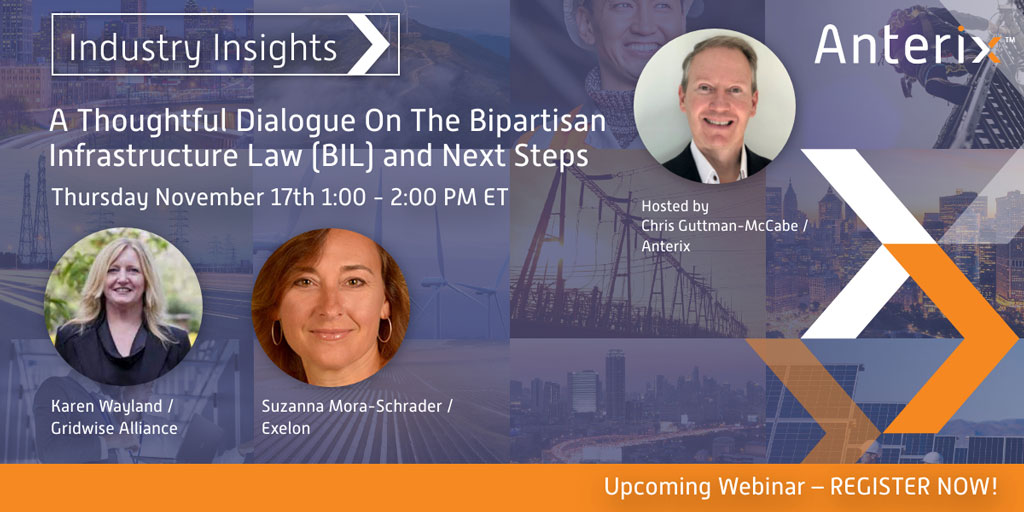 Thursday November 17th, 1:00 - 2:00 PM ET
A Thoughtful Dialogue On The Bipartisan Infrastructure Law (BIL) and Next Steps