A Thoughtful Dialogue On The Bipartisan Infrastructure Law (BIL) and Next Steps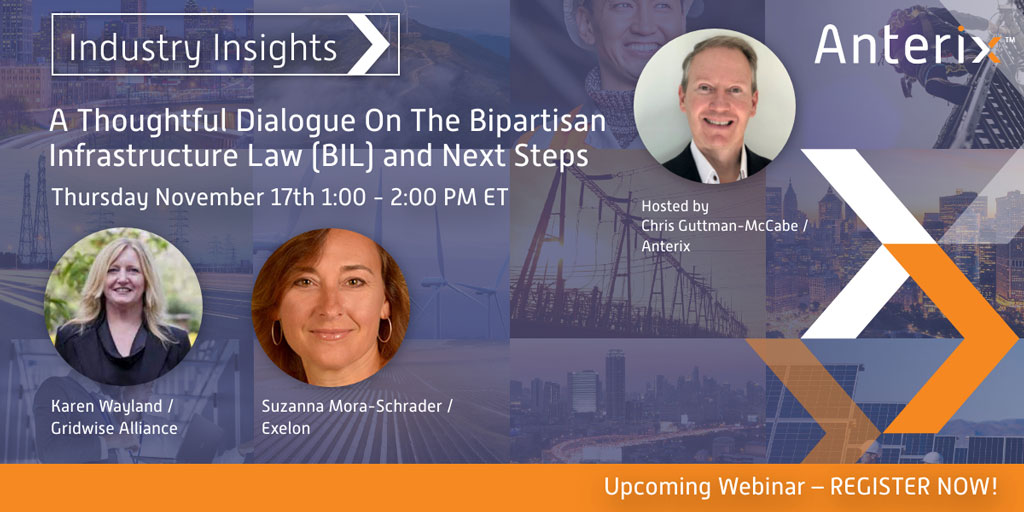 There is growing momentum among utilities toward deploying private wireless broadband networks to support grid modernization, reliability, and resilience initiatives. That momentum is strengthened by last fall's $1.2 trillion Bipartisan Infrastructure Law (BIL), which included substantial funds for grid modernization projects, specifically calling out those that deploy advanced communications networks to support the grid.
Watch the session where industry experts as they delve into the BIL, addressing what it says, how the agencies will be implementing it, and how it could help move the ball on grid modernization.
Hosted by:
Chris Guttman-McCabe, Chief Regulatory and Communications Officer at Anterix
Featuring a distinguished panel of industry experts:
Suzanna Mora-Schrader, Senior Director of Strategic Initiatives at Exelon
Karen Wayland, Chief Executive Officer at Gridwise Alliance
Stay on top of Anterix news and the events that shape our industry.

Anterix is architecting a new foundation that enables the modernization of critical infrastructure for energy, transportation, logistics and others. Help us spread the word.