Foundations for Transformation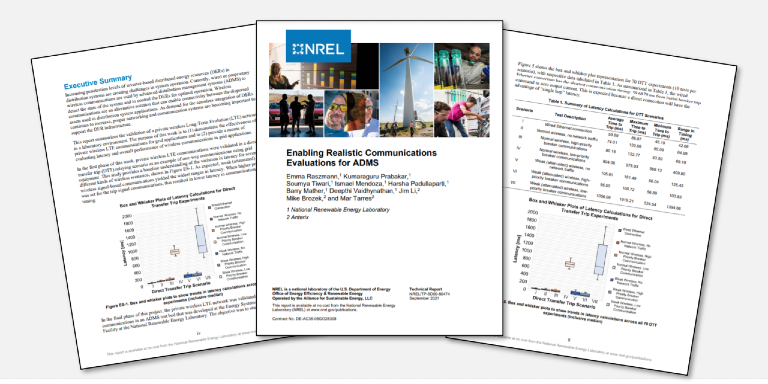 Completed NREL Study Findings Validate Performance of 900 MHz Private LTE for Utility Use Cases
The National Renewable Energy Laboratory (NREL) has successfully completed Phases I and II of its high impact project validating the performance of an Anterix 900 MHz private LTE network for critical grid communications. Findings from both phases are included in a technical report, and the research was informed by an Industry Advisory Board comprised of six leading utilities that provide service across 18 states, as well as former DOE Chief Technology Officer, Pete Tseronis. The six utility members of the IAB include: Consumers Energy, Duke Energy, Evergy, Eversource Energy, Holy Cross Energy and Xcel Energy.

The study's findings validated performance on 900MHz Private LTE for utility Use Cases. Phase I focused on the impacts of different wireless scenarios on a direct transfer trip of a solar inverter. Phase II of the work was an extension of the NREL ADMS Test Bed program, centering around a peak load management use case involving a dynamic voltage regulation (DVR) application and, in three of the six scenarios, a distributed energy resource management system (DERMS). The comprehensive study results are available at NREL.gov.
Anterix is architecting a new foundation that enables the modernization of critical infrastructure for energy, transportation, logistics and others. Help us spread the word.
Stay on top of Anterix news and the events that shape our industry.