Foundations for Transformation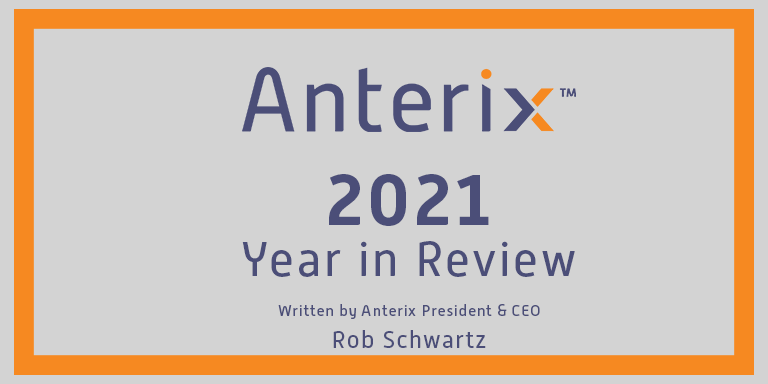 Anterix 2021 Year in Review
What a year 2021 has been in the life of Anterix. After the Federal Communications Commission's landmark 2020 decision paved the way for converting our spectrum to broadband, Anterix set out to bring the industry together behind the power of private LTE networks—helping the utility sector meet its decarbonization and grid modernization goals. Now, in looking back over the past twelve months, we can see that in 2021, utility industry leaders and policymakers began to publicly embrace our vision of modern communications enabling the modern grid—and took decisive action toward its realization. From executed spectrum agreements and broad interest in the 900 MHz LTE ecosystem, to national legislation and strong media attention on private broadband for grid modernization, 2021 was a fantastic year for Anterix.
The interest among utilities in using our 900 MHz spectrum to deploy private LTE networks is growing. Since last December, three leading investor-owned utilities have entered into agreements to utilize our 900 MHz spectrum for secure, robust private LTE networks to carry critical grid management communications, helping them integrate distributed and renewable energy resources to reduce carbon emissions. These three initial utilities are just the beginning, with more than fifty in the sales pipeline and more than a dozen utilities at various stages of testing 900 MHz under experimental licenses from the FCC.
Through their industry associations, too, utilities increasingly and actively collaborate in support of private LTE: from the Utility Broadband Alliance (UBBA) —an organization that we founded and spun off, which attracted over 300 people to its October conference on private LTE hosted by Ameren — to the Edison Electric Institute (EEI) and Utilities Technology Council (UTC), industry groups are helping their member utilities understand the benefits of private LTE networks for their grid modernization efforts.
Another significant indicator of momentum is the speed and energy with which the vendor community is recognizing the 900 MHz private LTE market opportunity. The Anterix Active Ecosystem Program (AAEP) launched in May with 37 leading technology companies participating; there are now over 70 collaborating with each other and with our utility customers to develop and bring to market innovative solutions, including both equipment and services, for utilities' 900 MHz private LTE networks. And just this month, recognizing the importance and complexity of security challenges for our customers, we launched the Anterix Security Collective within the AAEP, starting with six Anterix-vetted technology companies to collaboratively help utilities identify the best mix of solutions to meet their specific cyber-physical security requirements.
Further facilitating access to the growing range of goods and services available to utilities with 900 MHz private LTE networks, Anterix has already entered into teaming agreements with major technology providers including Motorola, Nokia, and Federated Wireless.
On the policy front, the President signed a $1.2 trillion bipartisan infrastructure package that specifically recognized the importance of wireless broadband communications networks for grid modernization. Not only does this legislation provide substantial resources that could help broaden and speed the deployment of utility private LTE networks, but it also serves to highlight the importance of such networks in achieving national priorities such as decarbonization.
If you follow the trade press or social media, you probably already know that we're also making great strides in getting the word out. In addition to multiple episodes of our own popular "Industry Insights" webinar series, our publicity efforts have led to frequent mentions in Forbes, Public Utilities Fortnightly, Light Reading, Energy Central, Fierce Wireless, Utility Dive, and other outlets, all of which help spread to utilities and policymakers a clear understanding of the importance of private broadband to a sustainable energy future. We are frequent participants on industry panels hosted by NARUC, Denton's, UTC, The GridWise Alliance, EEI and many other organizations, and we are sponsors of key industry events, providing further opportunity for utility decisionmakers to learn about private LTE. Each of these education opportunities help utilities understand not only the critical role of spectrum in enabling a wireless broadband future, but also how 900 MHz-enabled broadband can support their operational use cases.
And speaking of use cases, 2021 saw notable progress in industry recognition of the many ways a 900 MHz private LTE network can help utilities meet their goals. One of the foremost areas of concern is enabling the grid to accommodate a rapid and substantial increase in distributed energy resources (DER) to address the bold decarbonization commitments made by individual utilities. One effort in particular addressed this distributed energy future. In October, the Department of Energy's National Renewable Energy Laboratory (NREL) released the results of Phases 1 and 2 of a "high impact" project in which it successfully demonstrated the effectiveness of a 900 MHz private LTE network in DER integration use cases. That was a great technical validation from a highly authoritative source and one that we think will speak volumes to our prospective customer utilities.
We also have made a priority of helping utilities realize that in addition to the benefits of using their own individual networks, they could gain additional benefits from the "network effect" by creating an industry-wide network of those individual 900 MHz private LTE networks. (See this Anterix white paper published by the Council on Large Electric Systems (CIGRE) for a detailed description of the Network of Networks.) As an example, our spectrum leases with Ameren and Evergy—whose service areas share a border in 25 Missouri counties—offer an opportunity to develop the initial cooperation and integration benefits that can flow among utility private networks sharing the same technology and spectrum band.
We also have made progress in developing the significance of CBRS spectrum as a complement to our 900 MHz spectrum. This multi-band approach, embraced by San Diego Gas & Electric and other prospective utility partners, can be facilitated through our collaboration with Federated Wireless, a major player in the CBRS market.
On the critical national issue of bridging the digital divide, Anterix sponsored and helped develop the Utility Rural Broadband Playbook to give the industry a detailed and insightful resource for leveraging utilities' wired and wireless middle-mile communications infrastructure to help bring consumer broadband internet service to rural communities. This approach, which we have long advocated, has gotten tremendous traction this year, including endorsements in resolutions that we helped to drive that were adopted by the National Association of Regulatory Utility Commissioners and the Southern States Energy Board, as well as a $1 billion "Middle Mile" provision in the bipartisan infrastructure package signed by President Biden in November.
We are excited that the implementation of these and other recently adopted federal and state policies regarding decarbonization and broadband, as well as the application of the federal infrastructure grants and wildfire mitigation efforts, can help to place additional focus on utility grid modernization.
We are also continuing to make strides as we commit to Anterix being a good corporate citizen. Through our environmental, social, and governance (ESG) initiatives, we strive to enhance our ESG profile to support issues of significance to all of our stakeholders. To that end, we are doing our part to address issues related to diversity, equity and inclusion, both across our company and the industry. Our partnership with INROADS, "a non-profit organization that creates pathways to careers for ethnically diverse high school and college students across the country," helps translate our convictions into meaningful progress in promoting those goals. Additionally, in our work in the utility industry, we can help draw attention to issues that are important to us—such as our hosting at a recent EEI conference an event celebrating women in leadership, and the recent publication of Women Leading Utilities, the Pioneers and Path to Today and Tomorrow, a book that we helped sponsor by Public Utilities Fortnightly's Steve Mitnick that highlights many of the remarkable women that have shaped the industry of yesterday and today. And finally, at our core we believe our efforts to facilitate the rapid integration of renewable and distributed energy sources by utilities through the integration of private LTE supports the global environmental goal of reducing carbon emissions.
All of this past year's progress was possible only because of the collaborative culture and remarkable team at Anterix. This committed team—including our employees, our Board, and our partners—is always focused on helping the utility industry reach its meaningful goals, including decarbonization and an environmentally sustainable energy future. We are a small but dynamic company implementing a grand vision, and each and every one of us is personally responsible for our considerable progress. For this I am particularly grateful. 2021 was a great year, and I look forward to 2022.
Rob Schwartz
President & CEO, Anterix
Anterix is architecting a new foundation that enables the modernization of critical infrastructure for energy, transportation, logistics and others. Help us spread the word.
Stay on top of Anterix news and the events that shape our industry.